Free eBooks!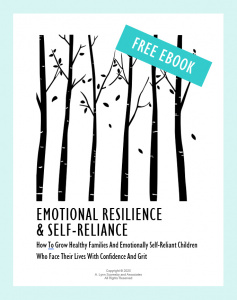 Emotional Resilience & Self-Reliance
How To Grow Healthy Families And Emotionally Self-Reliant Children Who Face Their Lives With Confidence And Grit
In this FREE eBook... 
Learn practical ways to promote emotional health in your families now to solve common problems and build social confidence, strong character, achievement, and resilience in your kids.
.
.
Awakening the Brain's Potential
All parents want their kids to do their homework on their own, right? This free eBook for parents and teachers celebrates and explains brain-based education, which teaches students about their brains. When they know more about their brains — how they work, how to develop memory and creativity, and about their unique form of intelligence — they will learn better and be more excited about learning at home or at school. Instead of schoolwork being drudgery, they will become so fascinated with their brains that they will learn on their own.
Emotional Self-Reliance Coaching
Coaching Focuses on Positive Growth, Solutions, and Prevention
| | |
| --- | --- |
| 1 | Skills for emotional self-reliance, resilience, optimism, and future-thinking  |
| 2 | Skills to strengthen relationships and feel more love, and peace in your marriage |
| 3 | Skills to eliminate anxiety, depression, and self doubt—for you and your children |
Click the button below to schedule an appointment with a professional Emotional Self-Reliance Coach.


.
Featured Courses
Teaching Kids About Sex, Reproduction, & Abstinence
Because you can't screen your children from all information about sex, teach them about sex in the way you want them to know about it. This course provides a step-by-step system for you to use to help your children develop a healthy understanding about sex, reproduction, and abstinence. They'll be so confident about the topic that they won't need to experiment.
This course offers a complete teaching package with ...
scripts appropriate to use with each age


instructional pictures


tips for building conversational relationships with your children so you have ongoing follow up
Take the online course now!
Or take the course along with the help of a professional coach.
Featured Courses

an 8-part course for couples that will help you find the lasting improvement you want to see in your relationship
.
a 12-part course for parents who want to prevent anxiety and depression in their children and help their kids be socially confident, mentally strong, and successful
.
More about what we do: