Online Courses
Positive • Preventative • Empowering
Practical, family-oriented courses that are fun and informative and come with tons of learning enhancements:
learning cues to make sure you're taking in the important information
interactive media
step-by-step action plans that will help you get started, show progress, and keeping going until there's success
Solving Stress-Related Arguments
Product Details
WHO IS IT FOR?
Couples who argue excessively due to stress

Couples who struggle to negotiate

Couples missing or struggling with deep feelings

Couples and individuals controlled by stress

Marriage lacking a partnership
EXCERPT
Most of us feel stress within us but believe it is caused by someone or something external. In a relationship, as a result, heightened stress often leads to blaming, criticizing, and demanding that the other person behave differently. A better solution is for the stressed person to identify feelings of stress, accept responsibility to do something about them, and ask his or her partner for understanding and help. This is a remarkable example of partnership and will reduce stress-related arguments.
WHAT YOU'LL LEARN
WHY IT'S IMPORTANT TO CREATE A GENUINE PARTNERSHIP

SUMMARY CONVERSATIONS:

TALKING ABOUT DEEP FEELINGS AND THE FUTURE'S RAW MATERIALS

4 STEP QUICK-START PLAN

INCLUDED MEDIA
Interactive Marriage Training:
"Skills for Negotiation"

CLICK TO FIND MARRIAGE
More Product Images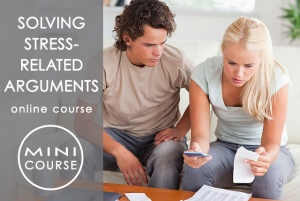 https://www.firstanswers.com/uploads/shopping_cart/11/large_solving-stress-related-arguments-MCI.jpg
https://www.firstanswers.com/uploads/shopping_cart/11/large_Marriage-Training-Image-1-Skills-for-Negotiation.jpg
https://www.firstanswers.com/uploads/shopping_cart/11/large_Marriage-Training-Image-2-Skills-for-Negotiation.jpg
Customers who bought this also bought